Mirror facing the bed is bad because it can disturb energy flow, disrupt sleep and trigger insomnia or nightmares. It can also be associated to hallucinations, anxiety and infidelity. In this article we'll mix feng shui concepts and scientific evidence to explorer deeper into why facing your bed to a mirror may not be the best idea.
In bedrooms across the United States, a common sight often greets the weary eyes of those seeking restful slumber: a mirror facing the bed.
While scrolling through YouTube or watching TV, you've probably come across numerous advertisements promising a panacea for a better night's sleep. These ads peddle everything from sleep-inducing medications to gadgets that vow to silence even the loudest of snores. It's clear that a substantial portion of the American population—one-third—struggles to attain the elusive good night's sleep they desire.
Could mirrors be the cause behind this widespread sleep predicament? There is evidence to suggest that they might be playing part.

Take this paper from Washington University School of Medicine, for example. Researchers discovered how a neural circuit in the retina at the back of the eye carries signals that enable the eye to detect movement, even when you're not focusing your sight.
Consequently, if you have a mirror in front of your bed, you may notice movements that can naturally trigger a state of alertness, potentially hindering your ability to fall asleep.
Additionally, the tradition of avoiding mirrors in bedrooms dates back centuries, and it finds its roots in ancient Chinese culture and the principles of feng shui.
Ancient Chinese wisdom, deeply influenced by feng shui, held that mirrors have the potential to disrupt the harmonious flow of energy, or "qi(chi)," within a room. This belief was especially significant in the bedroom, a sacred space devoted to rest and rejuvenation. Mirrors were thought to intensify the energy in the room, potentially leading to restlessness and disturbed sleep.
The ancient Chinese were not alone in their apprehension regarding mirrors in bedrooms. Various cultures throughout history have harbored similar beliefs, viewing mirrors as portals to other realms or as objects that could trap one's soul during the vulnerable state of sleep.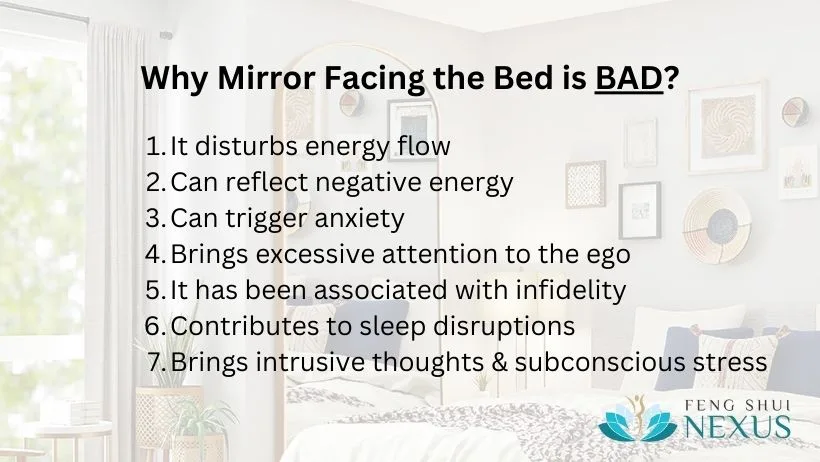 While modern science may not fully endorse these ancient beliefs, the psychological impact of mirrors in the bedroom remains an intriguing subject of study.
In this article, we will explore the feng shui perspective on mirrors facing the bed, as well as examine what modern scientific research has to say about their potential influence on sleep quality.
Is it bad to have a mirror facing your bed? A Feng Shui perspective
Feng shui, an ancient Chinese practice rooted in the belief that the arrangement of objects and spaces can influence the flow of energy (chi) and impact one's life, provides several reasons for avoiding mirrors facing the bed:
Disturbed Energy Flow
Feng shui emphasizes the importance of a balanced and harmonious flow of energy within a room. When a mirror is directly facing the bed, it is believed to bounce energy back and forth between the mirror and the bed. This constant reflection and redirection of energy can create a sense of restlessness and unease, potentially disrupting the peaceful atmosphere required for a good night's sleep.
Reflection of Negative Energy
Mirrors are thought to have the ability to capture and hold onto energy, including negative emotions and thoughts. When a mirror faces the bed, it may reflect these negative energies back to the sleeper, leading to disturbed sleep and unsettling dreams.
Increased Stress and Anxiety
Some practitioners of feng shui suggest that having a mirror in the bedroom can increase stress and anxiety, as it may create a feeling of being watched or observed during sleep. This feeling of being constantly observed can contribute to a sense of unease, making it difficult to relax and fall asleep.
Vanity overdose!
In some feng shui beliefs, having a mirror facing the bed is seen as encouraging excessive attention to one's ego and physical appearance. The constant reflection in the mirror can lead individuals to fixate on their outer image, potentially overshadowing deeper introspection and personal growth. This emphasis on appearance can detract from the nurturing of inner qualities and self-awareness, ultimately affecting one's journey towards self-improvement and personal development.
Can encourage infidelity
Another intriguing aspect of having a mirror facing the bed is the belief that it can introduce a third-party dynamic into a couple's relationship. According to feng shui principles, the mirror's reflective power amplifies the energy and luck of those in its vicinity, including the aspects related to romance.
In feng shui, mirrors are seen as potent enhancers of energy. When strategically placed, they can magnify positive energies in a room, such as love and intimacy. However, when a mirror directly faces the bed, it's thought to create a scenario where the reflection doubles the romantic energy of those sharing the bed. This intensified energy may inadvertently invite external influences or be unconsciously interpreted as an encouragement for infidelity.
While this perspective might not have a scientific basis, it highlights the cultural and symbolic significance mirrors can hold in personal relationships. The presence of a mirror in the bedroom can spark conversations about trust, intimacy, and the boundaries that couples establish in their shared space.
What does science have to say?
Scientifically, there are a few reasons why having a mirror facing the bed might not be ideal, although it's important to note that the impact can vary from person to person, and not everyone will experience these issues. Here are some potential scientific reasons:
Distraction and Anxiety
A mirror facing the bed can be profoundly distracting, especially if it reflects other objects or lights in the room. This distraction can have a significant impact on your ability to relax and fall asleep, potentially leading to feelings of anxiety and restlessness.
Our vision has a profound connection with our senses, a phenomenon demonstrated in a fascinating research experiment published by the Royal Society Publishing. In this study, researchers devised a 'virtual reality box' that featured a vertically placed mirror on a table, reflecting the subject's limb, such as a hand.
One part of the experiment involved subjects with only one hand. When the reflection of their hand moved, the subjects reported feeling movement in their missing hand. Even when the reflected hand was touched, they experienced sensations in their "phantom limb."
Now, consider this phenomenon in the context of your bedroom. When you're lying in bed and can see your own reflection, various factors in your environment can trigger similar sensations. The movement of curtains, shadows cast from outside your bedroom window, or any perceived interaction with your reflected image can trick your brain into believing that you are actually being touched.
In essence, the mirror's ability to create visual stimuli that your brain interprets as physical sensations can further exacerbate distractions and contribute to heightened feelings of anxiety when attempting to unwind and drift off to sleep.
Sleep Disruptions
The impact of mirrors facing the bed extends beyond mere visual disturbances; it can also contribute to sleep disruptions. Scientific studies have illuminated the significant role of artificial light in disrupting sleep patterns. In particular, the prevalence of blue light emitted by electronic devices or bright room lights has been widely investigated.
Research has shown that exposure to blue light, which closely mimics natural daylight, can suppress the production of melatonin, a hormone responsible for regulating sleep-wake cycles. This suppression can result in difficulty falling asleep and can reduce the overall quality of sleep experienced during the night.
Now, consider a bedroom with a mirror that reflects light, especially if that mirror is in close proximity to the bed. The reflective surface can amplify nighttime illumination, potentially exacerbating the intrusion of artificial light into your sleep environment. This added brightness can hinder your body's ability to achieve the deep, restorative sleep essential for physical and mental rejuvenation.
In essence, mirrors that reflect light in the bedroom contribute to an environment that disrupts the natural sleep-wake cycle, making it more challenging to attain the necessary restorative rest.
Negative Body Image
For some people, the presence of a mirror facing the bed can engender a profound sense of negative body image, potentially exacerbating pre-existing self-consciousness about their appearance. This heightened self-awareness can have far-reaching consequences, particularly when it comes to sleep quality and overall well-being.
The sight of one's own reflection while in bed can intensify feelings of dissatisfaction with one's physical appearance. These negative body image concerns can generate emotional distress, making it difficult to achieve the mental relaxation required for a peaceful night's sleep.
The relationship between body image and sleep is complex. When individuals grapple with negative perceptions of their physical selves, it can manifest in heightened stress and anxiety, both of which are known sleep disruptors. The emotional turmoil stemming from these concerns can lead to rumination, making it challenging to quiet the mind and settle into restful slumber.
Thus, it becomes evident that mirrors facing the bed are not merely passive observers but active participants in shaping one's emotional and psychological landscape, potentially exerting a significant influence on sleep quality and overall well-being.
Intrusive Thoughts & Subconscious Stress
The reflective surface of a mirror can sometimes lead to intrusive thoughts or self-reflection, especially when you're dealing with stress, anxiety, or other emotional issues. These thoughts can keep your mind active when you should be winding down for sleep. Moreover, mirrors have the potential to evoke subconscious stress or fear responses, which may occur if you believe in superstitions or have a fear of mirrors in the dark. These subtle feelings of unease can significantly affect your ability to relax and peacefully drift off to sleep.
It can trigger hallucinations
In dimly lit settings, even without a mirror facing your bed, a peculiar phenomenon sheds light on the unsettling nature of such mirror placement. Psychologist Giovannie Caputo conducted an experiment where participants gazed at their own reflection in a mirror for about 10 minutes. What ensued was intriguing and disconcerting.
Unexpected Results: Participants reported strange visual distortions, starting with minor changes to their faces and progressing to a feeling that they were looking at someone else's visage. Some even saw bizarre faces, monsters, or animals.
Psychological Implications: This "face in the mirror illusion" shows how our minds can deceive us when confronting our own reflection in unusual conditions. Such experiences can lead to discomfort and unease when preparing to sleep, shedding light on the unsettling nature of mirrors facing the bed.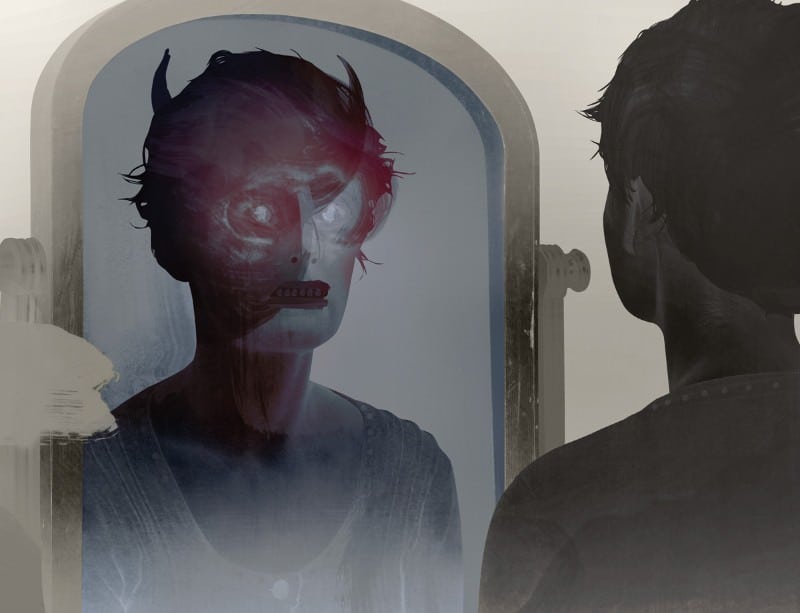 In addition to these psychological effects, mirrors can influence your bedroom's acoustics, potentially impacting your sleep quality in yet another way.
Back in World War 2, the United Kingdom (England) used mirrors to detect sound waves coming from enemy aircraft so they could prepare their air defenses. The use of mirrors proved useful only for a short while because as planes flew faster, the mirrors failed to provide the early warning as desired.
As I've explained before, sound is considered a type of Qi in feng shui, and mirrors bounce the sound back into the room as opposed to just absorbing it.
So if you sleep next to a partner that snores, you may notice that the irritating sound is louder than when you sleep somewhere else, perhaps a hotel room without a mirror facing the bed. This can be especially detrimental to your sleep quality, because it is known that sound as faint as whispers have the ability to affect our sleep quality.
Feng shui tips to place mirror in your bedroom
In feng shui, the placement of mirrors in a bedroom should be done thoughtfully to promote a harmonious and restful environment. Here are some guidelines for the best placement of mirrors in a bedroom according to feng shui principles:
Choose Appropriate Mirror Sizes: If you want to incorporate mirrors into your bedroom, opt for smaller mirrors or mirrored furniture pieces that don't reflect the bed. For example, a well-placed dressing table with a mirror can serve a practical purpose and enhance the room's aesthetics without causing discomfort.
Mirror Placement for Practical Use: Mirrors can be placed in areas where they serve practical purposes, such as on closet doors, inside wardrobe doors, or near the bedroom entrance. These locations allow you to check your appearance without the mirror directly facing the bed.
Mirrors to Expand Space: If your bedroom is small and you'd like to create a sense of spaciousness, consider placing a mirror on a wall that doesn't reflect the bed. Mirrors can make a room appear larger and more open, but be mindful of what the mirror reflects to ensure it enhances the overall energy of the room.
Mirrors Reflecting Natural Light: Placing a mirror to reflect natural light from a window can brighten the room and create a sense of vitality. Just ensure that the mirror's placement is harmonious with the room's overall design and doesn't create any unwanted reflections.
Framing Mirrors: Choose mirrors with frames that complement the bedroom's decor and color scheme. The frame can add an aesthetic touch and enhance the mirror's positive contribution to the room's energy.
Keep Mirrors Clean and Clear: Regularly clean and maintain mirrors in your bedroom. Dust and dirt on mirrors can affect their energy and clarity, so keeping them clean is essential in feng shui.
Word of Advice
From my observations, not everyone is bothered by a mirror facing the bed.
Everyone is unique in their own ways, and it is important to observe and pay attention to yourself on how the mirror is affecting you. If you think it has no effect, great. If you suspect that it is affecting how you rest, cover the mirror or move it somewhere else. Test and see whether you experience any improvements or not.
Also, a mirror facing the bed is just one factor of bedroom feng shui. Don't let it be the determining factor or deal-breaker when deciding whether a bedroom has good or bad feng shui. Simply put, don't over-react. It is not the end of the world if there's a large piece of mirror facing your bed.
Conclusion
When it comes to bedroom design, having a mirror facing your bed is a topic that blends ancient beliefs and modern science. Feng shui experts have warned against it, mentioning energy disruptions, sleep problems, and even relationship issues. While my own experience may not match these warnings exactly, I do know that mirrors can be a bit eerie, especially in dimly lit rooms where they can create odd visual effects.
From a scientific perspective, mirrors facing the bed can mess with your sleep. They might make you anxious, distract you, or even cause strange illusions. Studies show that light bouncing off mirrors can mess with our sleep rhythms. The mind-bending experience of seeing your reflection in unusual ways is something to think about.
So, should you have a mirror facing your bed? It really depends on your personal feelings and beliefs. Feng shui and science both give good reasons to be cautious. But remember, everyone's different. Pay attention to how your bedroom affects your sleep and feelings. If a mirror is causing problems, you might want to consider moving it.
Do you have a mirror facing your bed? If so, what was your experience? I'd love to hear your thoughts in the comments below!
Feng Shui practitioner and blogger of Feng Shui Nexus. I've witnessed the efficacy of Feng Shui, astrology and divination. Here, I share my knowledge and experiences with you to get you closer to your goals and dreams. Subscribe to get email updates or follow us on Facebook, Twitter, and Pinterest.