You might have heard that sleeping with your head under a window is bad feng shui. But do you know why?
Before I begin, let me clarify that this article is NOT about the feng shui of a bed placed under a window. Rather, it is about sleeping with your bed under a window AND with your head right under that window.
To begin, let me share with you some feng shui explanations that you might have heard of about bed under window:
"Don't situate the bed directly under a window. The chi entering through the window will disrupt sleep." – Feng Shui Bed Positioning. Sally Painter, Feng Shui Practitioner.
"At nighttime your body needs strong support, as well as protection, in order to do its best with the work of regenerating itself. This is the reason a good solid headboard is highly recommended in feng shui. In addition to a good headboard, you always want to have a solid wall behind your bed. When you sleep under the window, your personal energy tends to get weaker in time, as it has neither proper support, nor protection." – Feng Shui Tips and Solutions for Bed Under Window. Rodika Tchi, Feng Shui Expert.
"When a bed is placed under a window, it brings in negative chi to the occupant's health. The window brings in rushing energy that flows through and causes one to be restless. In addition, the negative chi may impact one's financial situation." – Is It Bad Luck to Place My Bed Under a Window. Patty Tran, Feng Shui Writer and Author
But how does the incoming chi disrupt your sleep? What does it mean by proper support or protection? How does your Chi energy fly away at night?
Here's my interpretation.
Sleeping with your head right under the window is bad feng shui because your sleep will be disrupted by the Chi coming from the outside, which includes smell, sound, and others. You will get less quality sleep at night, and your energy level during the day will be weaker as a result. As for support and protection, think of it as the sense of security we need in order to relax and rest.
Here are four reasons why it is bad feng shui if you sleep with your head right under a window, along with some remedies to mitigate its negative effects.
Sound and Noise from the Outside are Louder
When sound becomes noise, it becomes a negative Qi that not only disrupts your sleep cycle, but also arouses anger (in my case), frustration, stress, and other negative emotions.
You may be quite familiar with how noise affects your sleep. However, you may not be aware of how sound travels.
If you live right next to a busy street, here's a simple experiment that you can do right away to find out.
Go to a room with a window that is faced towards the street. With the window open, observe how much sound or noise you can hear that are coming from the outside. Then go to other areas in the room and observe again. You will notice that the sound is most concentrated if you're standing straight from the window.
This is because the window, similar to your front door, is a gateway of the incoming Qi from the outside. Once the sound gets inside the room, it will disperse and get absorbed by your furniture, blankets, etc. This simply means that the noise level are most concentrated right next to the window. At other areas of the room, the noise level won't be as bad.
With your head right under the window, the sound you hear may be no different than if you're right outside the window. How do you think that would affect your mood and sleep?
Studies have shown that sound as faint as whispers can arouse our brain activities even when we're sound asleep, and it is these brain activities that cause us to get less quality sleep. Other studies have shown that exposure to sound causes shifts from deeper sleep stages to lighter ones.
An easy feng shui solution is to close your window when you go to bed. If you live in a noisy neighborhood or in the middle of a busy street, you can install windows with double-paned glass for better noise reduction.
The quicker and more economical alternative is to use earplugs, although it could bring you other types of discomfort.
Scent and Wind are Concentrated
If you live in the city center and depending on the wind's direction, you may sometimes smell the car exhaustion coming from the streets. Or, god-forbid, you may smell cigarette smoke when your next-door neighbor is smoking on their balcony.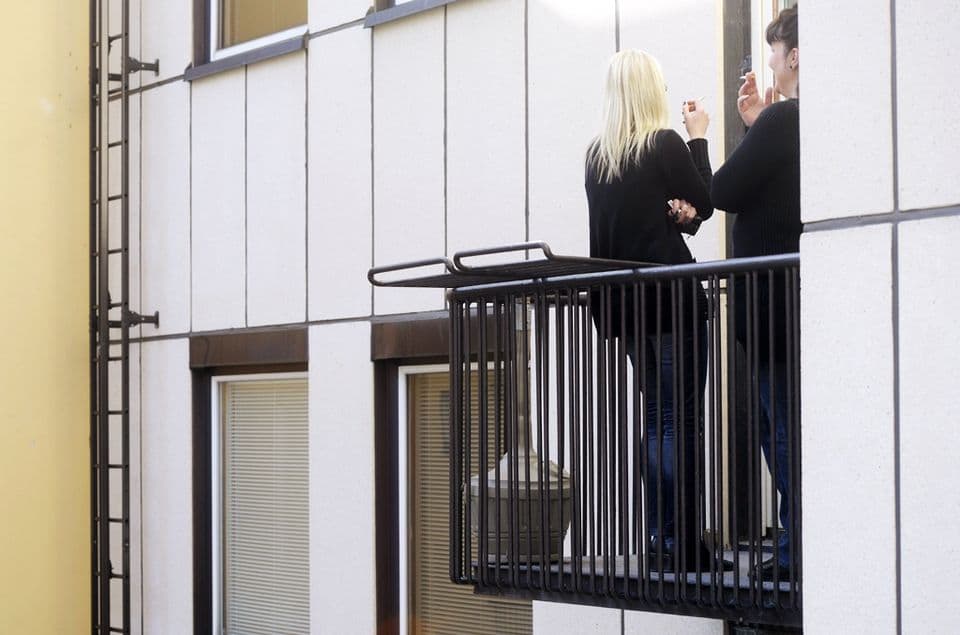 How would you feel if you wake up in the middle of the night from the smell of car exhaust or cigarettes? Angry? Frustrated? And would you have trouble getting back to sleep?
Just like sound, scent from the outside is most concentrated when you're next to the window. After it enters, it gets dispersed and diluted by the existing air in the room. So if you're sleeping with your head right next to the window, you will get the strongest smell from the outside, whatever it may be.
But air quality is only one element that the air brings.
With your head under the window, wind is gently blowing on your head and face constantly, sometimes without you noticing. Though you may be able to fall asleep, you may wake up with migraine headaches because the membranes of your nose and ears may be irritated. For some people, wind blowing upon the face can trigger Trigeminal Neuralgia, a pain in the face and jaw. If the wind is cold, or carries the Qi of the winter, some of us may experience cold stimulus headache, a similar headache commonly known as "brain freeze."
Again, the easy feng shui solution is to close the window when you go to sleep. You may also want to make sure that the window is sealed tight so no air could go through.
Light Can Shine Directly Into Your Eyes
Even if you have blinds or curtains installed, some rays of light can still manage to shine through the cracks or through the edges of the curtain.
This means that when you're asleep with your head right under the window, sunlight can be shining onto your eyelids and into your eyes. You may find yourself waking up early in the morning (which is not a bad thing) and difficulty going back to sleep. This is because light has the ability to influence our internal clock through the retina of our eyes.
Although waking up early is a good habit, sleeping with your head right under a window can also delay your sleep schedule.
When energy-saving LED lights were installed in Brooklyn, New York, residents were complaining about light pollution and how it was causing sleep deprivation and exhaustion because of its brightness. One reason is that the LED lights were blue, which is known for having detrimental effects on sleep, according to Dr. Mercola. Also, with enough light intensity, simply closing your eyes is not enough, simply because light can penetrate your eyelids.
Although you may end up forming a good habit of waking up early, you may also find yourself having trouble falling asleep at night. The after-effect is fatigue and sleep deprivation, which can cause more mood swings and low work performance, among many other undesirable effects.
Instead of investing in better blinds or double-layered curtains, you can try putting on sleeping eye masks when going to bed. Make sure that the eye mask is thick enough to block out all light when you go to bed.
You May Feel Anxious and Alert
The noise and light mentioned earlier has other potential ways of disrupting your sleep cycle.
How would you feel when you wake up from an unfamiliar noise right outside of your window? What about seeing (or feeling) moving shadows created by streetlights in the middle of the night?
When you sleep with your head right under the window, you may easily feel or sense movements from the outside. This may include the rumbling of automobiles, trains, passer-by's, or animal movements, including pigeons landing right outside your window (if you live in the cities) and raccoons rustling through the grass or bushes (if you live in the suburbs).
These types of movements right next to your head will alert your survival instincts and raise your anxiety level, both of which can rouse you from your sleep. This is what was meant by lacking proper support in terms of feng shui, because a headboard or a wall can remedy this effect.
Although you may get used-to certain types of noise and lights, such as those from drive-by vehicles, unfamiliar noise or shadow movements can alarm or even scare you. You may experience a surge in energy due to rising levels of adrenaline, thus making it hard to go back to sleep. For others, it may bring insecurity, tension, and anxiety.
If you find yourself not being able to relax, you can install heavy blinds or use a thick and tall headboard that blocks off the window. But again, the best cure is to move your bed's head away from the window.
Conclusion
When you sleep with your head right under a window, your sleep quality will be affected by the sound, smell, light, and air from the outside of your house. What comes after a lack of sleep can impact not only your health, but also your level of focus, patience, and emotions, all of which can influence your work performance and social relationships.
The best way to cure this bad feng shui is to reposition your bed away from the window. If you cannot, you will need to follow the tips provided earlier, such as using ear plugs, eye masks, and closing the window. Or if you're looking for other feng shui tips to get better sleep, you may find this article helpful: 33 Bedroom Feng Shui Tips to Improve Your Sleep.
Do you have any experience sleeping with your head right under a window? How was your sleep quality? Leave a comment below and let me know!
Feng Shui practitioner and blogger of Feng Shui Nexus. I've witnessed the efficacy of Feng Shui, astrology and divination. Here, I share my knowledge and experiences with you to get you closer to your goals and dreams. Subscribe to get email updates or follow us on Facebook, Twitter, and Pinterest.