I believe everyone should have plants in their house.
Why?
To start, it's because they are a great addition to the look and feel of your home. They bring life to an otherwise plain or stale environment. Further, they are quite easy to maintain.
But the main reason is because plants bring both health and feng shui benefits, as you will see in this guide.
So if you're looking to energize your home with more life, but need some tips and guidance on feng shui house plant selection and placements, then this guide is for you.
Let me begin with the health benefits of keeping indoor plants that are proven by scientific research.
9 Benefits of Keeping Indoor Plants Around You – Backed by Science
Studies have shown that keeping indoor plants improves our mental and physical health. Here are a few I found that cites credible sources.
Mental Health
1. Improves Concentration and Productivity. According to a study published in the Journal of Environmental Psychology, the mere presence of plants boosts a person's ability to maintain attention and concentration. Along the same line, other studies have suggested that plants at work can increase productivity by 15%.
2. Generates Happiness. Multiple studies have cited that plants in the workplace increased employee satisfaction. Further, flowers are found to have the greatest impact. Research conducted at Rutgers shows that flowers have an immediate impact on happiness. The researchers were even shocked, because 100% of the people responded to flowers with a true or excited smile.
3. Reduces Stress. A study conducted by Washington State University and a study published by NCBI found that the presence of plants helped reduce employee stress levels. According to Dr. Leonard Perry from the University of Vermont, who cites similar research, stated that visual exposure to plants helped lessen stress within five minutes.
4. Inspires Compassion and Improves Relationships. Research has shown that people who spend more time with plants have better relationship with others. Exposure to the natural environment, which includes animals, nature, and wildlife, produced similar results.
5. Improves Energy and Performance. Not only do plants improve concentration and productivity, it also gives you feelings of vitality and increased work performance. In a study conducted by Texas A&M University, they found that both women and men experienced increase in innovative thinking, creative performance, and problem solving with the presence of plants and flowers in the workplace.
6. Improves Learning Abilities. A 2010 study of 101 public high schools in Michigan revealed that exposure to nature has a positive relationship to student's performance. The performance was measured by standardized test scores, graduation rates, number of students planning to attend college, and number of occurrences in criminal behavior.
Physical Health
7. Accelerates Healing and Recovery Process. It turns out that hospital gardens bring natural medical benefits. Namely, it helps patients heal and recover faster. In a study conducted by HortTechnology, patients recovering from abdominal surgery in hospital rooms were tested. They found that the patients exposed to plants and hospital gardens had significantly fewer intakes of postoperative analgesics, more positive physiological responses, and more positive feelings.
8. Lowers Heart Rate and Blood Pressure. In the same study where patients were found to heal and recover faster, they found that indoor plants had the ability to lower heart rate and blood pressure. You can access the full article here.
Ok, so plants are great for us. However, these studies tell us little about what types of plants were used in their research (aside from flowers) and where they were placed (aside from outdoor gardens).
Here's where feng shui comes in.
The Feng Shui of Indoor House Plants
So how do plants help feng shui?
If you know a little about feng shui, it's mostly about how the eight cardinal directions affect us, how different shapes and forms influence us, and how Qi impacts our well-being. Practicing feng shui is about combining all of them together and using what's in our control to improve our surrounding energy so that it'll better our lives.
Plants are living and breathing beings. They produce much more energy than non-living, un-enchanted objects such as a typical three-legged frog that you can buy from Amazon.
It is that living energy from plants that are used to feng shui a house. Their energies are typically used to achieve the following goals:
Boost the Energy of an Area
Plants are living and breathing beings, and they can generate feelings of vitality and energy inside your home . It brings more life to an otherwise still environment.
Balance the Five Elements
All plants belong to the Wood element, and experts use them as a way to balance the elemental energy of a specific area. For instance, it can help boost the energy level of an area associated with wood, or weaken an area associated with water. But of course, there are other factors to consider when balancing the five elements, which we will discuss later.
Attract Love
Flowers are commonly used to attract love. One way is to place a few flowers in the bedroom. Another way is to place flowers in your Peach Blossom Luck area (more about this in the section below: Where to Place Indoor Plants). These are not recommended for those who are married or in a relationship.
Increase Learning Abilities
This is consistent with the scientific findings mentioned above, where plants are used to increase the academic performance of high schoolers. The plant suggested by feng shui is the "lucky bamboo", where four straight bamboos are placed in the Wen Chang area. You will find more details about this in the section below: Where to Place Indoor Plants.
However, not all plants are the same when you want to use it for feng shui purposes.
The Types of Plants Matter
Feng Shui can get quite specific on what types of plants to use. Here, I'll give you a brief overview of what these types are.
Shape and Size of Leaves
Round leaves are better than long pointy ones, and large leaves are better than small ones. Pointy leaves are disliked because its shape is bad Form (from the Form School of Feng Shui), whereas large round leaves are said to have the ability to attract positive energies.
Size of the Indoor Plant
Larger plants bring more energy, and smaller plants bring less. The suitable size totally depends on the five elements associated with that area. After reading this guide, you will understand why.
Flowers are Their Own Kind
Flowers are commonly used for feng shui love. Though flowers also belong to the Wood element, its colors also bring other types of visual enhancements and energy.
In terms of the Five Elements, Wood produces Fire. When the flowers bloom in colors such as red and pink, the energy of the Fire element are greatly enhanced. This may or may not be ideal, which again depends on the placement of the flowers.
Cacti are Their Own Kind
You probably guessed this already. Most cacti do not have leaves. Instead, they have needles, which brings negative energy just by its Form and shape (from the Form School of Feng Shui). The negative energies of sharp objects attack our sense of security, put us on guard, and creates discomfort.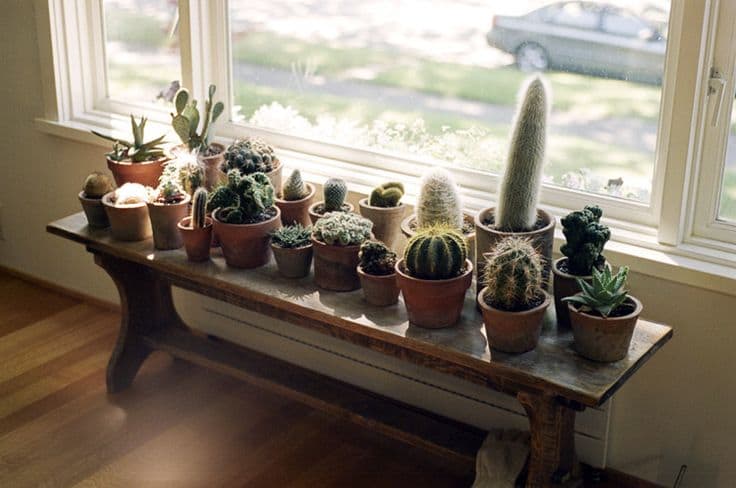 By now, you should have an idea of how plants are used and how different types of plants enhance the feng shui of an area. Let us now go deeper into where you should place them in your house.
Where NOT to Place Indoor House Plants
This section goes deeper into some of the feng shui concepts described earlier.
We will mainly be using the five elements and the type of room to tell you where NOT to place indoor plants.
1. Center of the House. The center area of your home belongs to the Earth element. Because Wood has the ability to weaken the Earth element, the center of your house is not the best place for indoor plants. This is not to say that placing plants there is completely out of the question. If you feel like the area can use some plants, place small ones instead of large ones.
2. Southwest and Northeast Area. Just like the center area of your home, both Southwest and Northwest belongs to the Earth element as well. A weakened energy in the Southwest area negatively affects the relationship between the husband and the wife. A weakened energy in the Northeast area slows down children's ability to learn, which may result in poor academic performance.
3. Northwest Area. The Northwest area belongs to the Gold element. Because Gold and Wood destroy each other, this area is also not the best place to place plants. A strong presence of Wood energy, such as those brought by a large plant, can harm the career and health of the breadwinner of the house.
4. Bedroom. In addition to the eight cardinal directions, the type of rooms also matter. Many experts agree that plants are NOT suitable in the bedroom, and their reasons vary. Some say it harms the luck and health of the home's breadwinner, while others say that plants bring strong energies of growth, which contradicts with the energy needed to get a good night's sleep. Further, some reasoned that the carbon dioxide produced by the plants at night can negatively affect our sleep.
Placing a few flowers in the bedroom, on the other hand, is said to have the ability to attract the attention of the opposite sex. Again, this is desirable for those who are single but not for those who are married or in a relationship.
5. Kitchen. Large plants are not suitable in this area because the kitchen is filled with the Fire element. The kitchen stove, oven, and other devices all creates energy associated with Fire. Excessive Wood energy, such as those brought by large plants, feeds the Fire element, which can cause excessive Fire energy and undesirable consequences.
6. Restroom. Using a person's Kua, the restroom can be BOTH a good and a bad place for plants. Plants in a restroom located in an "inauspicious" or "unlucky" area have the ability to amplify the negative energy of that area. On the other hand, for restrooms in "auspicious" or "lucky" areas, plants have the ability to amplify the positive energy, which can counter the negative feng shui brought by the restroom.
Where to Place Indoor House Plants
If there are places not suitable for plants, then there are also places that ARE suitable for plants. There's always a balance in feng shui.
Here are some of the recommended places for your indoor plants, also based on the elemental theory and the type of room.
1. East and Southeast Area. Both areas belong to the element of Wood. Indoor house plants, being a living Wood element, have the ability to enhance the Wood energy of that area. This is typically used when an area needs more energy, such as a missing area in your home's floor plan (example below).
When more energy is given to East, motivation and creativity can be improved to assist your career. For Southeast, more Wood energy improves social relationships and money luck. Again, you'd have to watch for not over-energizing these areas (such as building a forest in there), as it may result in unintended consequences.
2. South Area. This area belongs to the element of Fire. Adding plants here can enhance the Fire energy because Fire feeds on Wood. The result is increased courage and heightened ability to make better judgments, thereby improving your reputation that this area signifies.
3. Entry Hall and Living Room. Large indoor plants are suitable for both the living room and entry hall, as it can steadily improve the overall luck of the whole family. Just remember that large plants are not suitable in the Southwest, Northeast, and Northwest of the house, even if it's the entry hall or the living room.
4. Dining Room. Placing plants in the dining room can improve the money luck of the whole family. Some experts suggest placing plants that bear fruits because it signifies the reaping of rewards. The size of the plant to use totally depends on the size of the dining room.
5. Underneath Beams. Beams are known for their bad feng shui because they bring suppressing Qi (think of the trapped-feeling you get when you enter a place with very low ceilings). That is why feng shui suggest that you avoid sleeping, working, or resting under beams. Placing large tree-like plants underneath the beam is said to help a little, as its upward growth is said to counter the beam's suppressing Qi.
6. Home Office. Science found that plants help concentration and improve learning. In feng shui, the same applies when you place four straight lucky bamboos in the Wen Chang area (also known as the study area).
7. Wen Chang Area. Both you and your house have a Wen Chang area, which is a star that correlates with wisdom and literature. This area can be activated using four straight lucky bamboos as mentioned earlier.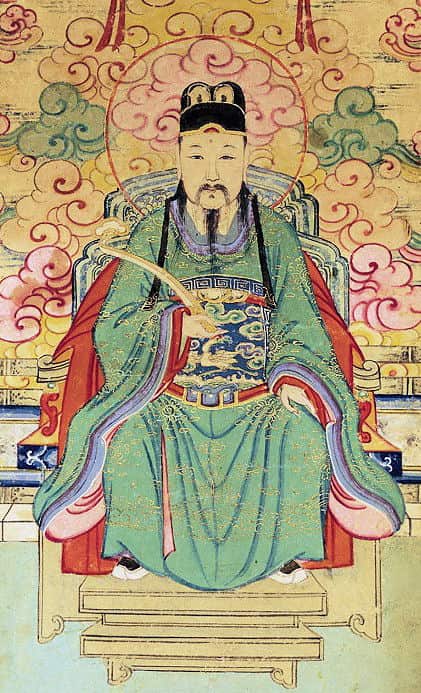 To find the Wen Chang area of your home, you will need your home's sitting and facing direction. Usually, the side of your house that faces the street is the facing direction. When you have those, use the chart below to find the Wen Chang area of your home.
There is also a personal Wen Chang area, which can be used on a smaller scale such as your home office or your children's study room. Use the last digit of your birth year, the chart below, and a compass to find your personal Wen Chang area.
8. Peach Blossom Area. The Peach Blossom area correlates with love and romance. This area can be enhanced by using flowers, and should only be used for those looking to attract a partner. Use your animal sign and the chart below to locate this area.
Placements of Indoor Plants Can Get Tricky
By now, you should have a pretty good idea about how plants are used in feng shui and where they should be placed and why.
However, there will be instances where you'll be utterly confused, even when you follow the instructions that I laid out above. This is because feng shui is not that simple, and there are multiple factors you need to take into consideration.
For instance, what happens if your living room is in the Northwest area? Though the living room is a great area to place large plants, having it located in the Northwest area negates that fact. The solution? Place smaller plants rather than larger ones.
The situation only gets more complicated when you add the personal Kua into the equation. That is because each direction of on the person's Kua has their own five elements. Imagine balancing that!
Conclusion
Plants are a great addition to your living space. Science proved that it positively impacts our mental and physical health. Feng shui, on the other hand, has been using it to attract love, increase learning abilities, and to improve overall luck, among many others.
However, using plants for feng shui can get tricky. You'll need to factor in the five elements, the type of room, and the directions. It's not easy, but that's the only way you can apply feng shui in a holistic way to get the best results that you desired for. Of course, the alternative is to get help from a professional so you won't overlook any important factors when you feng shui yourself.
I know this is a lot of information to digest. So if you have any questions, ask them using the comment below and I'll answer you using the best of my knowledge.
Feng Shui practitioner and blogger of Feng Shui Nexus. I've witnessed the efficacy of Feng Shui, astrology and divination. Here, I share my knowledge and experiences with you to get you closer to your goals and dreams. Subscribe to get email updates or follow us on Facebook, Twitter, and Pinterest.