Lots of bedrooms the U.S. have a mirror facing the bed.
For apartments, the mirror is usually on the sliding door of the closet. For houses, people usually hang a mirror somewhere in the bedroom, often times facing the bed.
I also noticed lots of advertisements that promote better sleep at night, from both YouTube and TV. The ads range from drugs to products that stop you from snoring, all of them promising a better good night's sleep.
When I dug deeper, I found that 58% of Americans want to improve their sleep quality. Perhaps this explains the reason why there are so many products and advertisements that promise to improve sleep quality.
Could mirror be the reason to this? Perhaps. Because I noticed that mirrors can sometimes create weird illusions when you don't fully focus your vision on it.
But then, it could also be countless other reasons. It could be the food we eat right before bed, our irregular sleep schedule, and other bedroom feng shui that affects sleep.
In this post, you will see my opinion as to why feng shui doesn't like mirror facing the bed. My opinion is based on what we know from today's scientific research and findings.
To begin, let me give you what feng shui experts have to say about this.
Feng Shui Consequences of Mirror Facing Your Bed
Here are three of the most popular concepts (or myths) about what might happen to us if we have a mirror facing the bed that we sleep in.
Brings a Third Party to Your Relationship
Many experts say that a mirror facing the bed promotes intrusion of a third party into the couple's relationship and possibly encourage infidelity. This is because the reflection of the mirror doubles the energy and luck of those sleeping on the bed, and one of those luck is romance.
Creates Insomnia
Most experts also say that a mirror facing the bed depletes your personal energy and creates sleeplessness. Because the mirror doubles and bounces all sorts of energy, it disrupts the tranquility needed in a bedroom for better sleep.
Nightmares and Soul Stealing
Some experts say that a mirror reflecting the bed brings nightmares. An explanation for this is that when we sleep at night, our soul leaves the body. When the soul sees its own reflection, it gets startled, hence the bad dreams and nightmares. Using the same concept, others say when the soul returns to the body, it may mistake the image in the mirror from the real body, hence the saying of soul-stealing.
Do you want to know the meanings of your dreams? Well! Each dream has a unique meaning, and the meanings of our dreams are different or similar to the people. Visit dreamfist.com for more articles about dream interpretations.
Let me remind you that the terms used to interpret feng shui was quite different in ancient times. The meaning could've been lost in translation over the years.
But instead of going back in history to decode what was really meant by these sayings, let us see what modern science has to say about this topic.
Why Mirror Facing the Bed is Not a Good Idea
One thing we clearly know is that ancient Chinese and today's Feng Shui Experts advise against a mirror facing the bed.
I was curious as to why they say this, so I asked about other people's experiences and dug into some scientific literatures for explanation. What I found was that you may have trouble falling asleep, and here are the reasons why.
You will be alarmed by movements
Your eyes are embedded with motion detectors. According to researchers at Washington University School of Medicine in St. Louis, our eyes detect movement through a neural circuit in the retina at the back of our eyes.
This explains why your attention is naturally attracted to whatever that moves, whether they are in front of your eyes or in the corner of your eyes. This was how our ancient predecessors hunted for food and survived from predators. It is our biological trait that allows us to survive on Earth.
So if you have a mirror right next to you when you sleep, you will notice any movement from the mirror's reflection. These reflections will naturally alarm or even startle you.
Why? Because you expect nothing to be moving at where the mirror is. But because of the movement reflected by the mirror, you brain will get a false sense of movement in that area, and it may creep you out. These movements will distract your sleep, sometimes raising your alertness and waking your survival instincts.
You might scare yourself from Sleep Drunkenness
Some people have what is so-called "sleep drunkenness", where visual sensors are not at 100% awake when the person wakes up from sleep. These are the type of people that'll scare themselves when they see their own reflection right when they wake up, because they sometimes don't recognize their own reflection until a few seconds later.
But sometimes this doesn't just happen to people with sleep drunkenness. Whenever there's something different about the way we look – a different hair style, the facial expression, or what we wear, we may get alarmed and think that we're seeing someone else.
Here's a funny 3-second video that illustrates this point.
If you were scared by yourself like the person from the video, it may be hard for you to go back to sleep. And for those that are able to go back to sleep after being scared by their own reflection, you are likely to experience bad dreams or even nightmares.
Perhaps this is why some feng shui experts say that mirror facing the bed might cause bad dreams?
You might see something green from Imperfect Mirrors
Further, because most mirrors are not "perfect mirrors", you may sometimes see a bit of green in the reflection. When you see that, don't be startled by it, and please don't start imagining things.
For those that get scared by it, please know that it is not some supernatural phenomenon. It is also not your eyes playing tricks on you. The reason you see something green in the mirror is because the mirrors that common households have are not "perfect mirrors" that reflect all spectrum of color and light.
The first half of the video below will help you understand this phenomenon.
Stare at your own reflection and you will Hallucinate
Here's something weird (or scary) that you can try for yourself, even if you don't have a mirror facing your bed.
Sit in a dark room about three feet (1 meter) away from a mirror. Keep the lighting as dark as possible but still able to see your face. Gaze at the reflection of your face for about 10 minutes.
Giovannie Caputo, a psychologist at the University of Urbino in Italy, was haunted by another man's face when he did this. He saw the face of an old man when he was looking at the reflection of his own face. He later successfully replicated this strange face-in-the-mirror illusion experiment on others.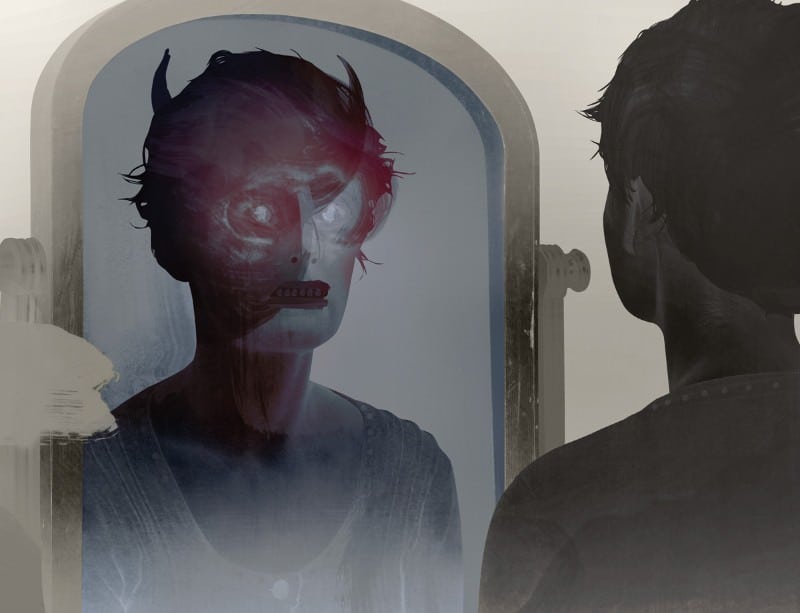 Here's what other people experienced. They began to see distortions of their face at first, such as a missing eyebrow or slanted lips. Gradually, the face looked more like waxwork, as if they were looking at someone else's face. Others see a series of unfamiliar faces, fantastical monsters, and even animal faces. If you'd like to learn more about this study, here's the link to the publication of this study.
When you turn your bedroom lights off, you are creating the perfect setting to see this strange phenomenon, assuming if you have a mirror facing the bed and you can see the reflection of your face. Imagine if you saw something or someone else in that reflection, how would that affect you? For me, I would be totally creeped out.
You will be "hearing" things
If you have large pieces of mirror on the closet door that faces the bed, have you ever asked yourself, "Did that sound from the closet?"
Mirrors aren't just for reflecting lights and images. It is great for reflecting sound as well.
Back in World War 2, the United Kingdom (England) used mirrors to detect sound waves coming from enemy aircraft so they could prepare their air defenses. The use of mirrors proved useful only for a short while because as planes flew faster, the mirrors failed to provide the early warning as desired.
As I've explained before, sound is considered a type of Qi in feng shui, and mirrors bounce the sound back into the room as opposed to just absorbing it.
So if you sleep by a partner that snores, you may notice that the irritating sound is louder than when you sleep somewhere else, perhaps a hotel room without a mirror facing the bed. This can be especially detrimental to your sleep quality, because it is known that sound as faint as whispers have the ability to affect our sleep quality.
But what's "trippy" is that when the sound is reflected from the mirror, you mind may get confused because it'll feel as if the sound was coming from the mirror. It just weirds you out, which I think is what really affects your sense of comfort and security when you're getting ready to sleep.
You may feel something weird or unexpected
Our vision has a strong connection with our senses. In a research experiment published by the Royal Society Publishing, researchers created a 'virtual reality box' where a mirror is placed vertically on a table and reflected the subject's limb—say a hand.
Part of the experiment was conducted on subjects with just one hand. When the reflection of the hand moved, the subjects felt movement on their missing hand. When it was touched, they also felt the sensation in the "phantom limb".
Here's a video that helps you visualize this experiment.
So when you're sleeping on your bed and seeing your own reflection, you may feel something when anything seems to be touching you. They could range from moving curtains to the shadow movements casted from outside your bedroom window. It's just how the brain works. Seeing our reflection being touched tricks our brain into believing as if we are actually being touched.
Here's another video that shows the connection between our vision and our sense of touch in the brain, as illustrated by a National Geographic show called Brain Games:
Feng Shui Tips for Mirror Facing Bed
The easiest way to remedy this situation is to cover the mirror with cloth (for mirrors on closet doors) or reposition the mirror so that it doesn't reflect your bed (for standing mirrors). You are good as long as you can't see any mirror reflections when you're in bed.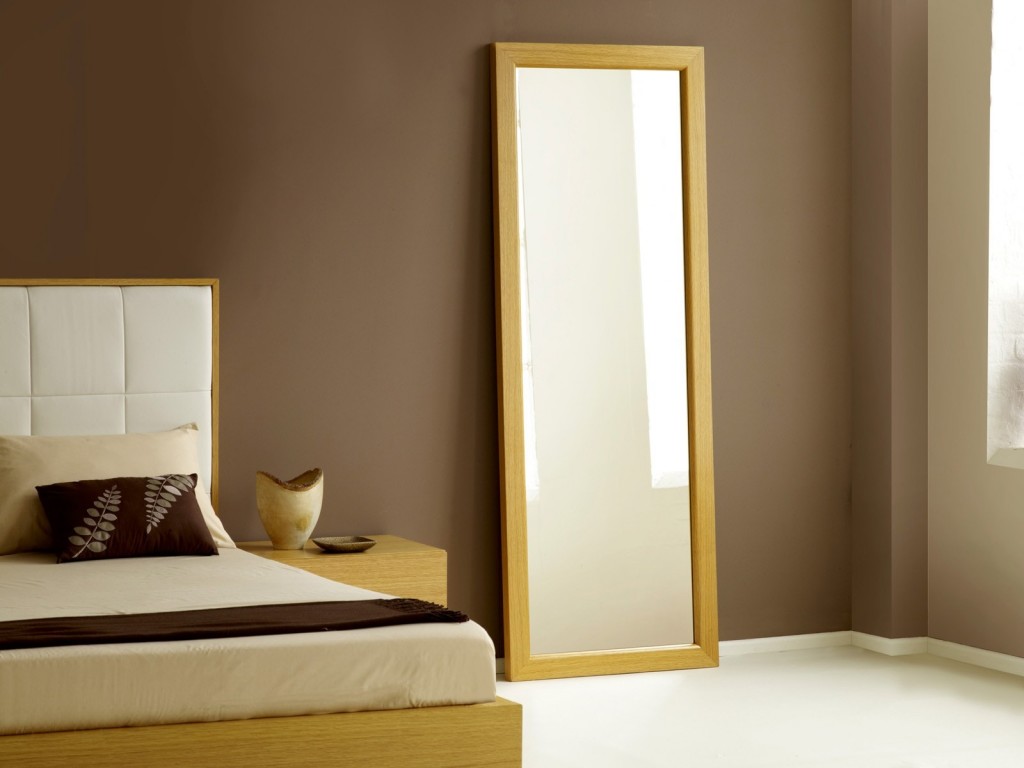 Keep in mind that there are other objects in your bedroom that embodies the mirror effect. These objects range from TV to the glass covers for your picture frames. Although these reflections are much less superior to the mirror, they have the tendency create the unwanted distractions mentioned earlier.
Word of Advice
From my observations, not everyone is bothered by a mirror facing the bed.
Everyone is unique in their own ways, and it is important to observe and pay attention to yourself on how the mirror is affecting you. If you think it has no effect, great. If you suspect that it is affecting how you rest, cover the mirror or move it somewhere else. Test and see whether you experience any improvements or not.
Also, a mirror facing the bed is just one factor of bedroom feng shui. Don't let it be the determining factor or deal-breaker when deciding whether a bedroom has good or bad feng shui. Simply put, don't over-react. It is not the end of the world if there's a large piece of mirror facing your bed.
Conclusion
Feng shui experts agree that mirror facing the bed can bring undesired consequences, such as depleted energy, insomnia, and even infidelity.
Though I've never had any personal experience with the consequences mentioned by the feng shui experts, I do know that mirror facing the bed is just bad experience. You have the tendency to scare yourself when you see hallucinations, hear something unexpected, and feel something weird.
Personally, I've seen weird stuff in mirrors. I feel that mirrors can be quite spooky, especially if the environment is darkened. Most of the time, I know that I'm just scaring myself. Please, don't be like me.
Do you have a mirror facing your bed? If so, what was your experience? I'd love to hear your thoughts in the comments below!
Feng Shui practitioner and blogger of Feng Shui Nexus. I've witnessed the efficacy of Feng Shui, astrology and divination. Here, I share my knowledge and experiences with you to get you closer to your goals and dreams. Subscribe to get email updates or follow us on Facebook, Twitter, and Pinterest.