This popular Feng Shui rule is commonly misunderstood. Most Feng Shui beginners (and some practitioners) associate stairs facing the front door as bad Feng Shui by default. However, this is only half true and is not always the case.
Also, I noticed that when talking about this rule, many assume that the stairs are inside the house. Rarely do they talk about the Feng Shui effects of staircase right outside the front door.
In this article, you'll learn about the Feng Shui effects of each.
Feng Shui of Stairs Facing the Front Door INSIDE the House
The Feng Shui effects of this, as noted by many practitioners, include:
Their explanations are similar – the staircase disrupts the flow of energy. The force of the Qi coming down the stairs overpowers the Qi entering the house from the front door.
But what about all the houses and mansions that we see with this setup? Like the one below?
If the Feng Shui effects are really true, wouldn't those millionaires and billionaires who move into these houses will suffer loss of wealth? Well, that's not that case because doesn't really affect wealth, at least not the way you think. Plus, several assumptions were made:
The first assumption is that the front door is constantly used. Meaning, this setup wouldn't be a problem if you live in a dwelling where you enter and leave the house through the garage. Qi will neither be entering from the front door, nor will it escape from the front door.
Second, it assumes Qi moves like human beings and uses the stairs. It is true that Qi moves from top to bottom (similar to water, but not exactly). However, Qi does not need to take the stairs. Like water, it can flow through the sides of the stairs and any openings. I have to agree, though, that a good portion of it do take the stairs because of its size and surface area.
Because of these, the Feng Shui effect of inside stairs leading straight to the front door does NOT always bring loss of income and wealth. It does, however, bring roadblocks to your wealth. Your career path will be more bumpy and have more ups and downs.
For instance, a person that's up for promotion might get delayed, or some unforeseen events (or "acts of God") will delay your new business or product from launching. These events are commonly described as being "unlucky".
Some might construe this as a loss of wealth, but that is not accurate. This setup affects income growth because of the roadblocks and headwind. It does NOT drain your wealth away.
Whether this Feng Shui effect manifests also depends on the distance between the front door and the inside staircase. If the front door is a certain distance away from the staircase, then you won't experience any roadblocks to your income growth, let alone loss of wealth. One explanation is that big foyer allow energy to settle and nourish the space. This also explains why the mansions inhabited by millionaires and billionaires doesn't drain away their wealth.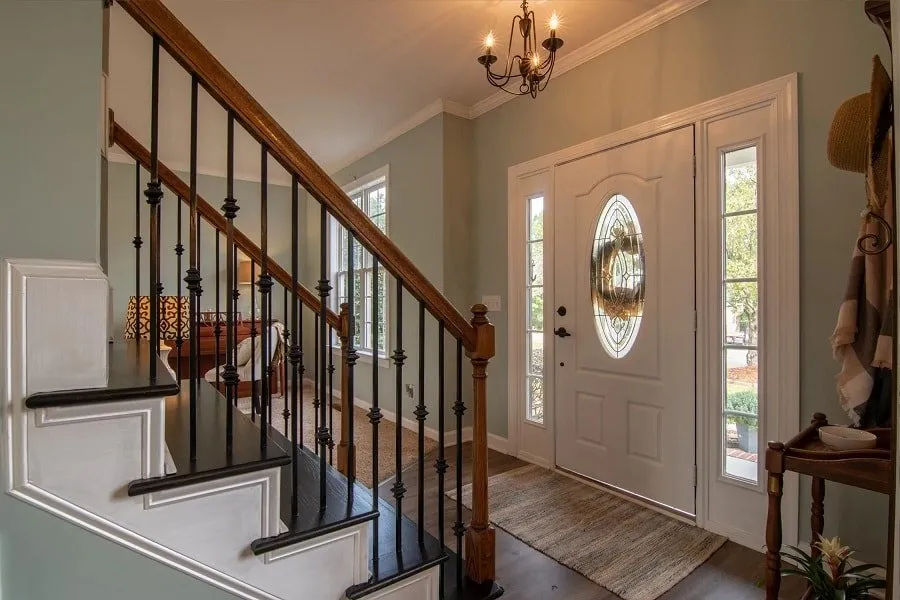 How much space do you need between the front door and the inside stairway? I suggest you consult with an expert or take professional Feng Shui courses to find out.
What about all those talk about losing wealth? Are they completely untrue? Not quite because it has to do with the stairs on the outside.
Feng Shui of Stairs Facing the Front Door OUTSIDE the House
This setup is when you see a staircase going downward to the road when you open your front door, like the image below.
Interestingly enough, not many practitioners talk about the Feng Shui effects of this on the web. However, Feng Shui masters in Asia do mention this and their Feng Shui effect in their books:
"Wealth goes down the stairs like a slide". It is hard to acquire and preserve wealth.
Relationships will be affected from verbal arguments. At worse, it can bring lawsuits. This is because of the shape of this setup looks similar to a mouth (the door) and a tongue (the staircase). In Mandarin, the phrase "mouth tongue" means verbal disputes (which includes lawsuits because they are a form of verbal dispute).
From experience, this setup mainly affects wealth and not so much verbal disputes. To be specific, it affects your ability to preserve wealth. It does NOT affect your ability to acquire wealth (which is determined by other Feng Shui factors such as how you gather auspicious Qi in your house). In other words, there's a tendency for you to incur high expenses, whether voluntary or involuntary.
This is because of the way Qi flows. As mentioned earlier, Qi flows from high to low places. When the front door opens, the Qi gathered in the house will flow outwards because of the difference in elevation.
Several factors need to be met for this to manifest:
If you understand the concept of Qi flow, you'll notice that the said Feng Shui effect isn't actually caused by the stairs, but rather, the house's elevation relative to the road. That means if your stairs lead to a front yard where its elevation is close to where the house is, then the said Feng Shui effect won't manifest.
What About Houses on Lower Grounds?
If houses on higher grounds makes it hard for you to preserve wealth, then would the opposite be true? Would it be easier to preserve wealth when your house is on lower grounds? Not exactly.
This just means you won't have a problem with wealth preservation caused by Feng Shui. It does NOT mean that Feng Shui will assist you with wealth preservation. Depending on the house's surrounding elevation and other factors, this setup sometimes brings sickness to the occupants of the house.
This is why checking the elevation of the house's surrounding is extremely important when assessing the Feng Shui of a house. Elevation alone can often make or break the Feng Shui of the house because of the strength of the incoming Qi.
Conclusion
With a better understanding of Qi flow, do you see why many of the cures for stairs facing front door is completely useless? Do you really think placing a red carpet, a crystal, a Bagua mirror, or wind chimes can stop the Qi flow?
If you have this setup, don't sweat. Most of the time, there are creative and cost-efficient ways to implement a cure. The masters, through their practice, knowledge, and experience, know how to turn negative Qi to auspicious ones. You can find these masters in the Feng Shui directory here.
Feng Shui practitioner and blogger of Feng Shui Nexus. I've witnessed the efficacy of Feng Shui, astrology and divination. Here, I share my knowledge and experiences with you to get you closer to your goals and dreams. Subscribe to get email updates or follow us on Facebook, Twitter, and Pinterest.