"The front door shouldn't face the kitchen."
"Avoid a home with the kitchen at its center."
"The kitchen should be placed in your inauspicious areas."
We hear about all these Feng Shui rules and tips about kitchen. Most of us just take them for granted. But have you ever wondered why the rules and tips are set that way?
If so, then this post is for you.
Here, you will learn about SOME of the Feng Shui energies of the kitchen and why they're considered "bad" and destructive, both from the perspectives of science and Feng Shui. Using that information, you'll then understand the reasoning behind some of the popular Feng Shui kitchen rules, which I'll also tell you throughout this post.
With those said, let's begin.
Fire Destroys the Good (and Bad) Qi
The most notable energy of the kitchen is fire. This energy comes from your stove (electric or gas), your oven, your microwave, and other cooking devices.
Fire by itself is NOT a "bad energy" per se. However, if the kitchen is not placed properly, the fire energy can destroy all the positive energies of your home. This is similar to how the negative Qi of your bathroom destroys auspicious energies. This is what makes it "bad".
To understand this concept a little deeper, let's briefly explore the topic of Qi. When good (and bad) Qi enters from the front door, it interacts with the Qi inside the house and manifests itself into good or bad Feng Shui.
Fire in its actual form, or in the form of heat, will interact with the Qi inside the house. The way it interacts is to destroy that Qi, whether they be good or bad. This is why the kitchen brings destructive Feng Shui energies that are considered "bad" by some.
This destructive energy is the reason behind a popular Feng Shui kitchen rule stating that the kitchen should not be facing the front door directly. All the effort you put into your Feng Shui front door would be negated by the cooking activities in the kitchen.
Cooking Fumes are Just Plain Bad
Unless you boil all your food, you will definitely produce grease smoke or cooking fumes at some point. Not only are they negative energies in terms of Feng Shui, they are also detrimental to our health.
According to a scientific study published on NCBI (National Center for Biotechnology Information), a short-term exposure of cooking fumes will affect our breathing pattern. The study measured the forced expiratory time (FET) when a subject entered the kitchen until six hours later.
For those of you who do deep-frying at home, the health risks are even worse. Scientists say harmful particles are released when oil is heated to the temperature for deep-frying, with vegetable oil as being the most dangerous. The chemicals produced by deep-frying, such as polycyclic aromatic hydrocarbons (PAHs), is known to cause cancer.
In a separate study, scientists tied lung cancer to vapor produced by stir frying, a common way of cooking in the Chinese culture. Such cooking vaporizes many components of cooking oils and can fill kitchens and homes with smoke. This finding explains the high rate of lung cancer among Chinese women who do not smoke.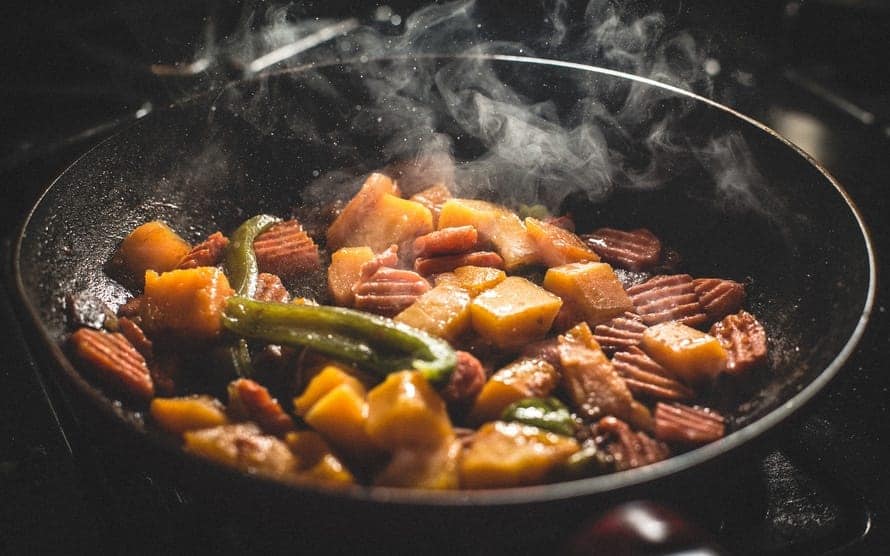 The same goes with grilling, and hopefully you don't do this at home. The barbeque smoke also produces PAHs, similar to deep-frying mentioned earlier. Inhaling this toxin over a long time can be detrimental to your health.
What's more, these cooking fumes can travel all over your home, depending on where your kitchen is located.
Some of you have a habit of closing the bedroom door when you cook so the smell doesn't get to the bedroom. Or maybe you'd open the balcony door so the grease smoke can exit the house. What you're doing is beneficial in terms of health and Feng Shui.
From the above information, you probably guessed the reasoning behind two popular kitchen Feng Shui rules.
One is the rule that states your kitchen shouldn't be in the center of your home.
Imagine if it is so. The grease smoke and fume can travel all over your home. How would that make your home feel? Although that rule has other reasons behind it, one reason is to prevent all the smoke from spreading to all corners of your home.
Second is the rule that states your kitchen stove should have a wall behind it (instead of a kitchen island with stove).
The wall can direct the flow of the cooking fumes into the smoke extractor. You'll probably find that the grease will stick on that part of the wall, which is better than having it go to your living room or bedroom. This rule also has other reasons behind it other than just redirecting the flow of negative Qi.
Trash, Rotten Food, and Liquid Waste
You would think that if you rarely cook, you wouldn't have much of a problem with trash or rotten food.
I beg to differ.
I used to only cook about twice a week, and I don't really create trash. I don't throw away leftovers (I'm against wasting food), but I do throw away chicken bones, fish bones, and other food residues.
The problem was that I had a large trash can in my kitchen. Because of its size, I rarely take out the trash. That's where the problem came.
My trash can had a lid cover, and unbeknownst to me, there were mini maggots crawling all over underneath the lid! It wasn't just a few maggots, it was a HUGE colony!
That's what goes on in the kitchen. If not taken care of properly, your kitchen's Feng Shui can be worse than your bathroom.
With that said, you've probably guessed what the other negative Feng Shui kitchen energies are. They come from your trash and waste, both in liquid and in solid form. And they're not just limited to what's inside your trash can.
Whenever you wash your vegetables, prepare meat, or slice your garlic, there are parts of the food that may end up on your counter or your kitchen floor without you noticing. If not cleaned up, those foods will rot. Bacteria will grow, and they'll attract insects, rodents, and any other pests that you don't want to see.
To me, the worst is the smell of rotten food. There were times when that was the first thing I smell when I enter my home. It reminded me to take out the trash. At some point, I even had rodents in my kitchen (that was taken care of), although I only cooked about twice a week.
This type of negative energy is a little similar to the restroom. Both has their roles to play in Feng Shui.
Using Kitchen's "Bad" Feng Shui to Your Advantage
There's a smart way to use your kitchen's "bad" energies to Feng Shui your home.
To use it to your advantage, we'd refer to the Eight Mansions Feng Shui where we'll need your Kua number to determine your lucky and unlucky directions. To find your Kua number, you can use this calculator on Katie Weber's website.
Next, find your inauspicious (or "unlucky") areas and draw them out on your floor plan. Ideally, your kitchen is placed in those areas of the breadwinner of the house.
The reasoning behind this is that the "bad" Feng Shui energies will neutralize those negative energies brought by the unlucky areas. In a sense, these bad energies work in similar ways with the energies from the bathroom. Both the kitchen and bathroom should be placed in the unlucky areas.
Of course, I have over-simplified this process. Sometimes dividing your home's floor plan into the lucky and unlucky directions can be tricky.
If you'd like to learn more about the Eight Mansions Feng Shui and how it influences you, I suggest you read my ebook: Are You and Your Home a Match?
Conclusion
Hopefully, you now understand the reason behind a few kitchen Feng Shui rules.
In short, the reasons are that the kitchen brings both "bad" and destructive Feng Shui energies from activities related to cooking. These energies mainly come from fire, grease smoke, and the trash produced in the kitchen. They can be used to neutralize the negative energies based on your personal Kua number.
What was your Feng Shui experience with your kitchen? I'd love to hear about them in the comment section below!
Feng Shui practitioner and blogger of Feng Shui Nexus. I've witnessed the efficacy of Feng Shui, astrology and divination. Here, I share my knowledge and experiences with you to get you closer to your goals and dreams. Subscribe to get email updates or follow us on Facebook, Twitter, and Pinterest.