When talking about Feng Shui, most would refer to the location of the front door, kitchen, and bedroom, as well as the sitting and facing direction of the home (compass direction).
However, the environment surrounding your home is equally important, if not more.
Sometimes, negative Feng Shui Forms (形煞) can bring such strong negative Chi that can deem a house unsuitable for long-term stay. These negative Chi, or Sha Qi (煞), can manifest into loss of wealth, accidents, and sickness because it can change the energies that goes into your home. This school of thought came mostly from the Form School of Feng Shui (Luan Tou/ 巒頭), where you analyze what can be seen by the naked eye.
I'm sure all of you would want to avoid loss of wealth, accidents, and sickness. That's what this article is for – to teach you how to identify these negative Feng Shui Forms so you can avoid them.
These negative Forms can be classified into 5 categories: Sharp, Corner, Rushing, Arrow, and Pressing. (Some words here may be lost in translation)
Before we begin, let me make one point clear:
Mere Presence of Negative Forms Doesn't Mean You'll Be Affected
Many factors need to be considered to determine whether the negative Feng Shui Forms have an impact on you.
First, these Forms should not be facing your front door. Meaning, if you're standing inside your home looking out of your front door in a straight line, you shouldn't see these Forms.
Second, these Forms should not be facing your windows. The same method mentioned above applies.
Third, the distance and the size of these Forms should be considered.
For instance, you'll soon learn that street light poles are a negative Form and assume that you can see one through your front door. But when you take distance into consideration, the street light is about 20 feet away from you from right across the street. In this case, you shouldn't worry about that negative Form because the light pole is too far to impact you.
Throughout this article, I will include the factors to consider when explaining what these Forms are. Let's dive right into it.
Sharp Sha (尖煞)
Sharp Sha is one of the most common one we see today. Its shape is typically triangular, or something thin and tall. Here are some examples:
Street light poles
Flag poles
Sign posts
Bell towers
Church towers
Electric towers
Chimneys
Very tall and thin trees
Mountain's peak
For some, their presence is a sight for sore eyes. For others, they feel indifferent. For a few, it can give off a slight feeling of unease.
Let me use a more extreme example. Imagine having knives installed into your ceiling, with their sharp edge pointing downwards. You know the knives are not going to hurt you (unless there's an earthquake or other catastrophes). However, its presence will make people uncomfortable. How do you think that's going to affect someone who's living there for years?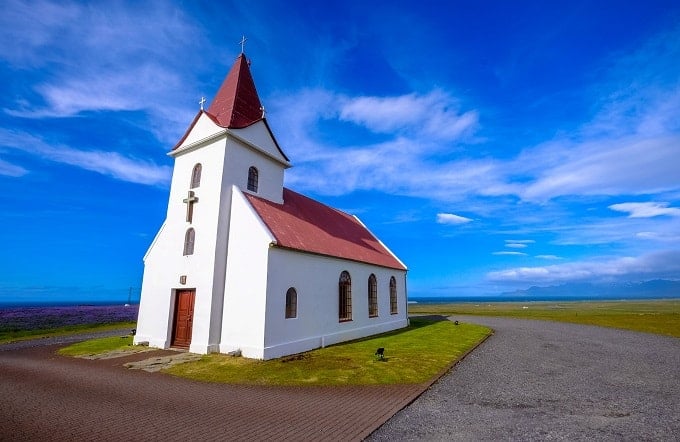 Though this example is not the best, it shows what Sharp Sha can make people feel.
The strength of this Sha is determined by its height and its proximity. The taller it is, the stronger its energy. If it is far away, it'll have no impact to your home's Feng Shui.
This Sha should not be located directly at the front of your front door or window. Even if that's the case, you're fine if it is far away from you. If it is at the side of the front door or window and does not form a straight line, then its effects on you are minimal.
Cure for Sharp Sha
The common cure is to place a concaved Bagua mirror on top of your door, assuming that the Sha faces your door.
For Sharp Sha from natural objects such as trees and mountain peaks, some masters suggest a flat mirror on top of the door accompanied with wind chimes. As for the type of wind chime, the front door's location relative to the house should be considered.
However, I do have doubts on the efficacy of mirrors and wind chimes against Sharp Sha.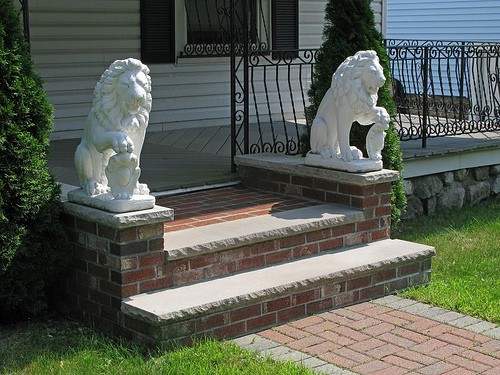 Other masters suggest using a front garden comprised of earth and rocks (or a pair of stone lions at each side of the front door) as cure, especially if the Sha energy coming to your front door is strong. That's because sharp triangular objects represent the Fire Element, and Earth can weaken Fire. The Water Element is not suggested simply because they clash with each other.
Corner Sha (角煞)
Corner Sha is typically the corner of a building and the corner of the rooftop of a house. Similar to other Sha, it has to face the front door for its effects to be more damaging.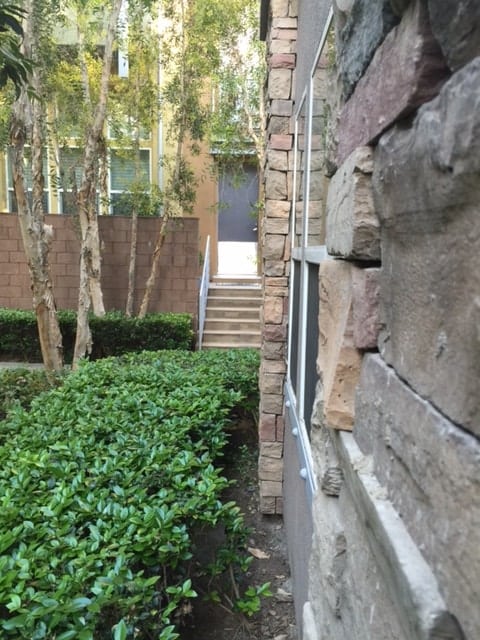 How does Corner Sha affect humans? Here's an example that most of you can relate to.
Have you ever sat at the corner of a dining table? Some feel discomfort, and my guess is that it's how the Form affects people. Some cultures even say it's bad luck for people sitting on the corner of the table.
The strength of the Sha energy depends on the building's material and the size of the building. The corner of a wooden building is weaker than a brick or concrete building. The bigger the building, the stronger its Sha energy.
Also, don't forget the distance of the Sha to your front door. If its far away, then there's no need to worry about it.
Cure for Corner Sha
Just like the Sharp Sha, the go-to cure for Corner Sha is the Bagua mirror. Some masters suggest that the size of the mirror should be proportional to the strength of the Sha energy. Also similar to Sharp Sha, stone lions can be used if the Sha energy is strong (using Earth to weaken Fire).
Again, I have my doubts on these cures. Personally, I would just avoid houses like this.
Rushing Sha (衝煞)
I'm sure many of you who knows a bit about Feng Shui knows what this is. The most common Rushing Sha comes in the form of a T-junction.
Why is Rushing Sha bad? Here's an explanation taken from my previous article about T-junction:
"One of the main reasons is that the Qi, or "energy", coming directly from the road is coming straight towards the house. This type of Qi is detrimental to the occupants of the house because it's too fast and strong. Just think of wind or water currents that are flowing at very high speeds. Physical objects within its path will definitely sustain some type of damage."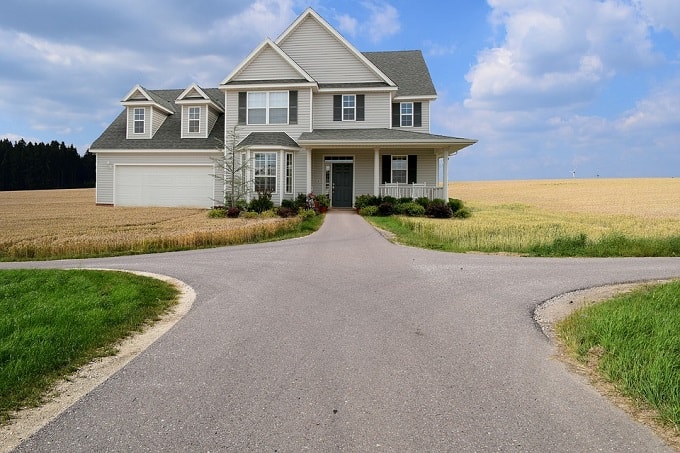 The strength of this Sha is determined by the size and length of the road and how busy the street is. The longer and narrower the road, the greater the strength. Conversely, the shorter and wider the road, the weaker the strength. The lesser the traffic, the weaker its strength.
Cure for Rushing Sha
A few masters think that there is NO Feng Shui cure for houses at the end of T-junction. I tend to agree, and I think the best you can do is to minimize the effect.
Other masters suggest using a Bagua mirror to reflect the Sha energy. (Seems like Bagua mirrors are the cure to everything…)
The use of a Bagua mirror can have a disadvantage to yourself. Since you are using the road as you leave and enter your home, the reflection can potentially harm you more.
I personally do NOT think Bagua mirrors can be a cure. The scale of the Rushing Sha from a T-junction is just too big. Can a mirror really stop it?
A better cure is to use a wall of bushes proportional to the Rushing Sha. Ideally, the bushes shouldn't be too close to the front door because it affects how Qi enters your home.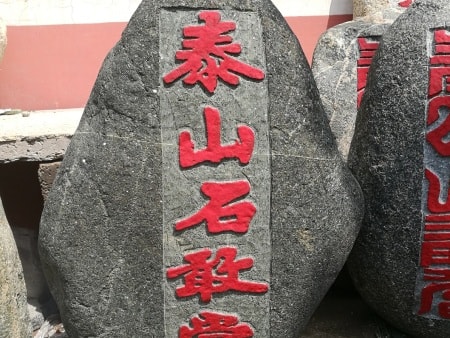 A cure from the ancients suggest placing a big piece of stone slab at the end of the T-junction. My interpretation for that cure (and I could be wrong) is for the rock to stop incoming traffic from crashing into the residence.
Arrow Sha (射煞)
For some, this Sha is also known as the "Poison Arrow". Some Feng Shui masters think the T-junction is also a form Arrow Sha.
That is not entirely true. Arrow Sha are more common in urban settings, where the front door faces a narrow gap formed by two buildings. It doesn't necessarily have to be a road. But if it is, the gap has to be narrow to form the Arrow Sha.
The strength of this Sha is determined by the size of the building and how narrow the gap is. The narrower the gap, the stronger the incoming Sha. The taller and bigger the building, the longer the gap and the stronger the Sha energy.
Some masters claim that the Arrow Sha need not point to the front door or window for its negative effects to manifest. They say that the room where the wall is struck by the Arrow Sha will be affected, and it is best to use that room as storage or restroom. I personally don't think that's entirely true.
Another thing to note about Arrow Sha. If there's a building at the opposite end of the gap and attached to the two buildings forming the gap, the Qi flow is blocked. Although the Form is still there, the incoming Qi is greatly reduced. For some masters who are focused more on the flow of energy, they will disregard the Arrow Sha altogether in that situation.
Arrow Sha is not limited to the narrow gap in between buildings. Some masters think that light reflections (mostly sunlight) are also a form of Arrow Sha.
These light reflections can come from the glass windows from another building (in urban areas) or from water reflections. Although sunlight is a much-needed source of Yang energy, it becomes a Sha energy if the reflection hurts your eyes and affects your living.
Cure for Arrow Sha
I personally have this problem, and the cure for light reflection is simple. What I do is just to use my blinds to block the light reflection when it's shining directly into my eyes. That's it!
As for the Arrow Sha from the gap of two buildings, there's no cost-efficient cure if it's facing your front door. You may try using a Bagua mirror, but I, along with other masters, doubt its effectiveness. Your best bet is to change the location of your door.
Pressing Sha (壓煞)
Pressing Sha is more common in urban areas. It is when you have buildings much taller than your building that are located in front or on the side of where you live. The taller, bigger, and closer the building, the stronger the Pressing Sha.
How tall is tall? How close is close?
If you have two apartment buildings side by side almost attaching to each other, the taller building generally has to be twice as tall for Pressing Sha to exist.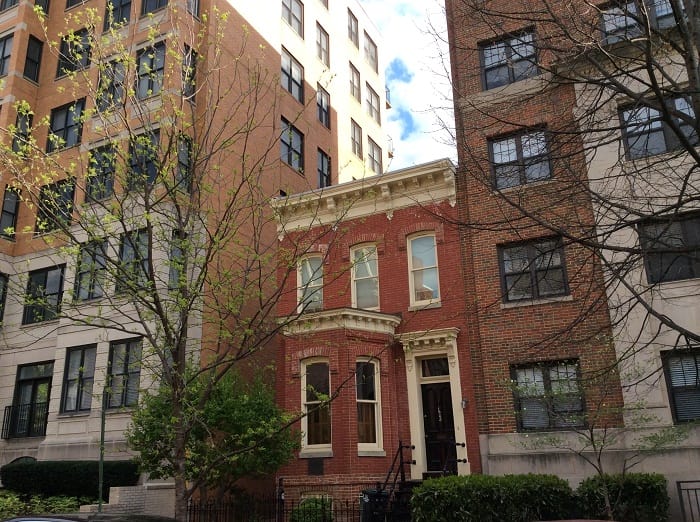 For proximity, it's too close if your home would be crushed when the taller building crashes your way. This does not really apply when the buildings are side by side to each other, and not all floors would be affected. There are actually precise calculations to identify this.
The effect is worse if the bigger and taller building is right in front of your home. That's because it hinders the ability for your home to absorb Qi from the outside.
Pressing Sha doesn't just apply to buildings. Freeways, subway tracks, and bridges can also form Pressing Sha if they are too close to where you live.
Cure for Pressing Sha
Unfortunately, there is no cure in this situation. Though some masters in Asia would suggest the "Mountain Sea Town" Feng Shui item for bridges and freeways, I have doubts on its efficacy. Other skilled masters who knows there is no cure would make short-term Feng Shui adjustments to help the client monetarily so they can move out of the place.
Conclusion
After reading this article, you should be able to identify the common Feng Shui Forms that bring Sha energy. Some Sha can be cured, and others can hardly be cured.
If you have a Form Sha that's affecting your place right now, be wary if a Feng Shui master tries to sell you items as cures for this Sha. Most of the time, the master is just trying to squeeze more money out of you (or to calm you) without delivering a proper cure. Your best bet is to move into a place where these negative Forms are absent.
Do you have these negative Feng Shui Forms that's affecting you? Share your experience with us by commenting below!
Blogger and owner of Feng Shui Nexus. I've witnessed the efficacy of Feng Shui, astrology and divination. That's why I created this site – to enable experts to share those knowledge and experiences with you and get you closer to your dreams. Subscribe and get email updates or follow us on Facebook, Twitter, and Pinterest.